Spiral Pipe Also known as spiral Steel Pipe and spiral welded pipe spiral pipe is low carbon structural steel or low alloy structural steel strips by a helix angle (called forming angle) rolled into a tube, then the tube seam welded together made, it can be with a narrow strip steel production of large diameter steel pipes.Also known as helical or spiral tube body. Spiral tube outer diameter of about 30 nm and an inner diameter of about 10 nanometers, adjacent helical pitch of about 11 nm. 1 week of each spiral from 6 surrounded nucleosome, H1 histone in the spiral cavity of the inner surface of maintenance of spiral structure plays an important role. The nucleosome composed of 10 nm, 30 nm fiber to form spiral of crude fiber, so that further compression 6 times the length of DNA.
Production Process
(1) raw materials that strip, wire, flux. We must go through rigorous physical and chemical testing before it is put.
(2) strip head and tail docking, single or double wire submerged arc welding, in rolled steel by automatic submerged arc welding.
(3) before forming the strip after flattening, cutting, trimming, planing, surface cleaning conveyor and I crimping process.
(4) the use of electric contact pressure gauge to control both sides of the conveyor pressure cylinder pressure to ensure the smooth delivery of the strip.
(5) the use of internal or external control roll forming.
(6) adopted the weld gap control device to ensure the weld gap to meet the welding requirements, diameter, the wrong side and the weld gap have been strictly controlled.
(7) within the welding and soldering are used outside the United States Lincoln welding machine for single or double wire submerged arc welding, thereby obtaining a stable welding specifications.
(8) finished welding the weld line continuous ultrasonic injury checks to ensure 100% coverage of non-destructive testing of spiral weld. If defective, automatic alarm and spraying tags, production workers so adjusting the process parameters, and remove defects.
(9) by air plasma cutting machine will cut a single tube.
(10) cut into a single steel pipe, steel pipe each batch must be strict inspection system, the mechanical properties of the weld inspection, chemical composition, fusion status, steel pipe surface quality and after NDT inspection to ensure that qualified Pipe Process before we can formally put into production.
(11) with a continuous sonic flaw marks the site of the weld, manual ultrasonic and X-ray review, if there are defects after repair again after destructive testing, until the confirmation defect has been eliminated.
(12) strip butt weld and intersect with spiral weld small joint where the pipe all through the X-ray television or film examination.
(13) of each pipe after hydrostatic test pressure radial seal. Test pressure and time by the steel pipe pressure microcomputer detection device strictly controlled. Test parameters are automatically printed record.
(14) pipe end machining, so that the end vertical, bevel and blunt edge be accurately controlled.
Photos of our Spiral Pipes: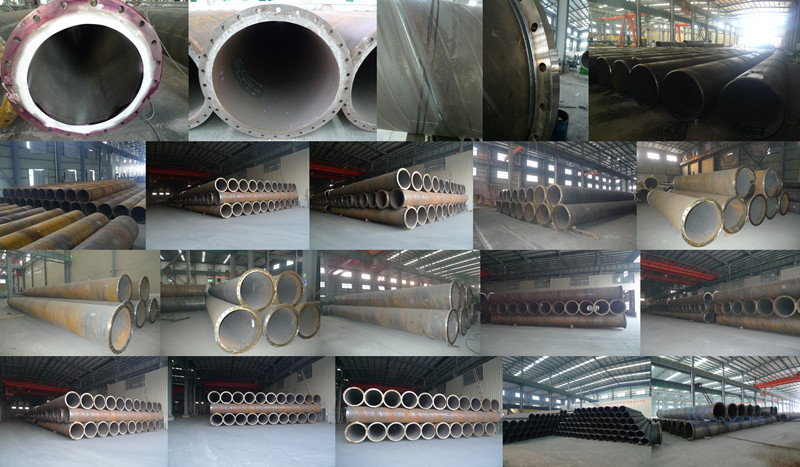 Surface treatment:
1, cleaning
Application solutions, emulsions cleaning steel look to reach the removal of oil, grease, dust, smoothing agents, and similar organic matter, but it does not remove the steel appearance of rust, scale, welding flux, and thus the corrosion produced only as adjuvant trick.
2, tool rust
The primary use of tools such as steel wire brush polished look, you can remove loose or tilt of the oxide scale, rust, welding slag. Hand tools rust can reach Sa2 level, power tools rust can be reached Sa3 level, if the outer steel skin attached to solid iron oxide, the results are not ideal tools rust, corrosion of the anchor pattern depth of less than construction requirements.
3, pickled
Common chemical and electrolytic pickling two ways to do disposal pipeline corrosion using only chemical pickling can descaling, rust, old coatings, and sometimes used as a sand-blasting and then disposed of after. Chemical cleaning is important in allowing the appearance of the inevitable arrival of cleanliness and roughness, but the anchor pattern shallow, and easy on the case of forming pollution.
4, spray (throwing) radio rust
Spray (throwing) radio rust is the result of high-power motor driven spray (throwing) radio blade speed reverse, so that grit, steel shot, wire segments, minerals and other abrasive under the centrifugal effect of the outer pipe were shot dispose spray (throwing) not only can completely eliminate rust, oxides and dirt, and steel in the fierce impact and abrasive friction effects, but also to reach an average roughness needs.
Spray (throwing) radio rust, it can be extended not only physical adsorption outer tube, and can enhance the effect of the mechanical adhesion of the coating and the outer tube. Thus, the spray (throwing) radio rust rust is an ideal method for pipeline corrosion. Generally, blasting (sand) blasting is mainly used for disposal of the tube look, blasting (sand) blasting is mainly used for surface of the pipe surface disposal.