Polyethylene floater excellent toughness linear medium density polyethylene resin as raw materials, combined with corrosion-resistant, anti-aging and other materials, after Rotational molding, filled with high-strength polyurethane foam blowing process to produce the product, reasonable structure, excellent performance. As the water floating material mud tubes become traditional Steel Pontoon alternative products, also add UV resin material, rich enough toughness, hardness to withstand natural environmental changes and low invasion, will not pollute the water, and recyclable recycling , forming a seamless whole floating body.
Photo of our Marine Float: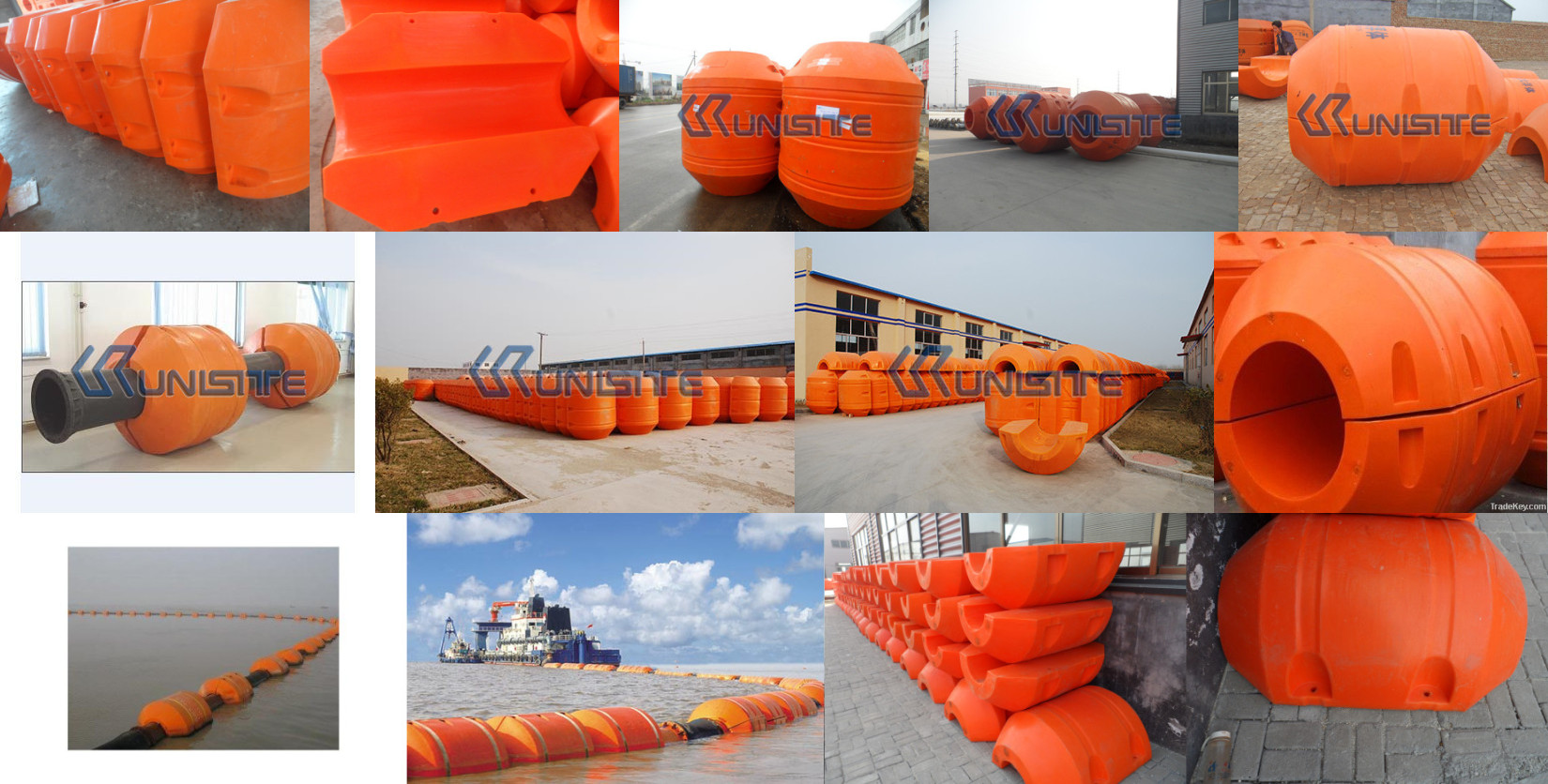 General
The hull of MDPE floater is made from medium density polyethylene of excellent flexibility, filled with high strength polyurethane foam inside. With reasonable structure and good performance, the MDPE floater becomes the best substitution of the traditional steel floater for the Floating Dredging Pipe. It is widely used as floater in offshore dredging working and oil area.
The construction is to be built according to the drawing with rules of good workmanship.
The floating body is equipped with shock and wave resistance, compact and reasonable structure, easy installation and excellent performance. Being floating materials for mud delivery pipeline on water, it becomes the first choice of dredging customers.
Good Toughness, strong environmental stress cracking resistance, and being appropriate for offshore and lake construction.
Light weight, good wind and wave resistance, wear resistance, impact resistance, corrosion resistance
Easy, fast and flexible assembling diversified modeling.
Low price and cost performance is significantly better than that of steel buoy.
Light weight, big Buoyancy.
Very low absorption rate
Simple installation and low maintenance costs
Service temperature range-60°C-80°C
Main particulars
MAIN PARTICULARS

Tolerance

High accuracy, normal

Length: 1 %, Diameter: ±1%, Thickness: ±1mm, Weight: ±2%

Material

PE or Polyurethane

Dimension(L*B*H)

As per drawing

Out diameter

500-2200mm

Plastic Thickness

7-16mm

Length

600-2500mm

Buoyancy force

200KG-9000KG

Marking

as per clients' requirements

Inspection

material, construction, dimension, surface

Surface

smooth and homogeneous, bright color

Others

Recyclable, in line with environmental requirements and standards, and reliable
Polyethylene plastic float features:
1, anti-wave impact of the floating body, compact structure, easy installation, excellent performance, as water pipelines floating mud material become lost customers preferred product of sediment discharge.
2, toughness, resistance to environmental stress cracking resistance, suitable for the construction of sea and lake.
3, light weight, wear resistance, ease of installation and handling, low transportation costs transfer.
4, corrosion resistance, weather resistance, long life, is three times that of steel pontoon life.
5, the assembly is simple, fast, flexible, shape and diverse.
6, low price, the price was better than steel buoys.
7, because of stable quality, innovative design, reasonable price and good service, welcomed by users.
Polyethylene float performance characteristics:
a, light weight, buoyancy
b, impact resistance, acid and other corrosive
c, absorption rate
d, simple construction and low maintenance costs
e, temperature range -60-80 ℃
Use polyethylene float: mainly used in ocean, salt, fish farming, underwater oil, dredging duct laying.
Polyethylene float features:
a, to ensure the delivery line of water float.
b, orange exterior color can be used as warning signs to prevent the strike line.
c, convenient transportation pipeline inspection and maintenance.
d, shorten the construction period, reduce costs, reduce maintenance costs.