General classification of Agricultural Machinery by use. Most of the machinery which is according to the special requirements of the agricultural characteristics and the operating and specialized design and manufacture, such as soil tillage machinery, plant and machinery and fertilizer, plant protection machinery, crop harvesting machinery, animal husbandry machinery and agricultural products processing machinery etc.. Another part of the agricultural machinery is common to other industries, according to the characteristics and needs of the agricultural direct selection, such as agricultural power machinery, farm irrigation and drainage machinery pumps; or according to the characteristics of the agricultural and need to the mechanical design, an agricultural variant, such as agricultural transport machinery in agricultural vehicles, trailers, and farmland Construction Machinery in the soil and rock excavation machinery etc..
Photo of our Agricultural Machinery: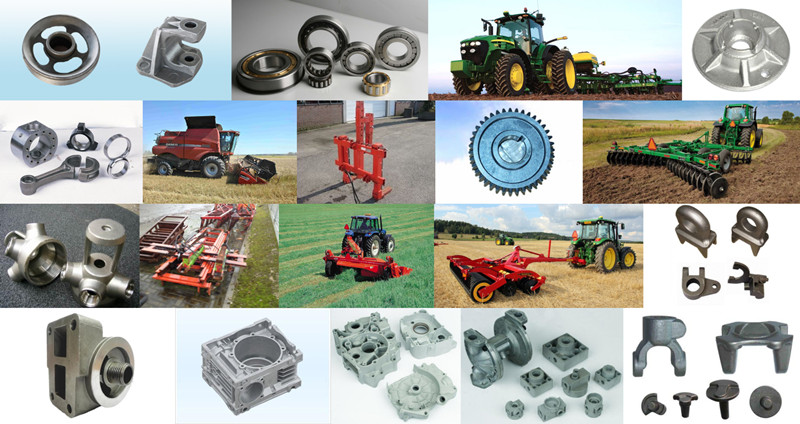 Mechanical dynamics
Machinery for providing power for all kinds of agricultural machinery and agricultural facilities. Agricultural power machinery mainly has the internal combustion engine and the equipment of the internal combustion engine tractor, as well as the motor, wind turbine, turbine and a variety of small generators, etc.. The diesel engine has the advantages of high thermal efficiency, good fuel economy, reliable work, good fire prevention safety, etc., and is widely used in the agricultural internal combustion engines and tractors. The characteristics of gasoline engine is a lightweight, low temperature starting performance is good and smooth operation, mostly for small agricultural machinery, such as rice transplanter, carry mobile plant protection machinery and tea plucking machine etc..
According to the region of the fuel supply, but also can be adapted to local conditions and use of natural gas, petroleum gas, liquefied petroleum gas and gas furnace fuel gas engine. Diesel and gasoline by modified also burn gas gas fuel, or fuel gas and ignited by diesel fuel dual fuel engine, as agricultural power machinery.
Motors are mostly used to drive the fixed operation or the indoor operation of various kinds of agricultural machinery, such as agricultural products processing machinery and pump and greenhouse, warehouse, livestock house in various operating machinery and other. In areas with water or wind resources, wind turbines and turbine driven all fixed operating machinery can save fuel oil and equipment provided water device of wind turbine can provide water for people and livestock in pastoral areas. Small generating sets composed of an internal combustion engine, a wind turbine or a water turbine and a generator, which provide agricultural production and rural life power supply to remote areas. The solar energy and the utilization of the methane produced by the rural waste materials can also be provided by the solar power generation device, the biogas generating set, the biogas diesel dual fuel generating set and the like.
Agricultural machinery can also be used in accordance with the power and supporting the classification. The application of agricultural machinery power can be divided into two parts: part for agricultural machinery to walk or move according to the human (portable, shoulder, chest hanging and push pull), animal traction, tractor and dynamic self walking type; another part for the working parts of agricultural machinery drivers. Based on the points driven human (hand, foot, etc.), animal driven, mechanical power drive (using internal combustion engines, wind turbines, motors, etc.) and tractor drive type. In the same agricultural machinery, the two parts can use the same or different power. According to agricultural machinery and tractor matching way, can be divided into traction, suspension and semi - suspension type.
According to the mode of operation, the agricultural machinery can be divided into two categories: walking and fixed operation. In the agricultural machinery in the running process, there are two types of intermittent walking, which are continuous walking and running and walking and working process. In the fixed operation of agricultural machinery, there are non operating conditions can be transferred to the location of the operation of the mobile and job location is always fixed two types of non mobile.
According to the place of work, agricultural machinery points for field operations (field, pasture, and orchards, etc.), yard work, indoor operations (plant, engine room, storehouse, greenhouse and livestock house, etc.), water or water operations (rivers, channels and reservoirs and wells), road works and air operations.