Agricultural Machinery can also be used in accordance with the power and supporting the classification. The application of agricultural machinery power can be divided into two parts: part for agricultural machinery to walk or move according to the human (portable, shoulder, chest hanging and push pull), animal traction, tractor and dynamic self walking type; another part for the working parts of agricultural machinery drivers.
Photo of our Agricultural Equipment: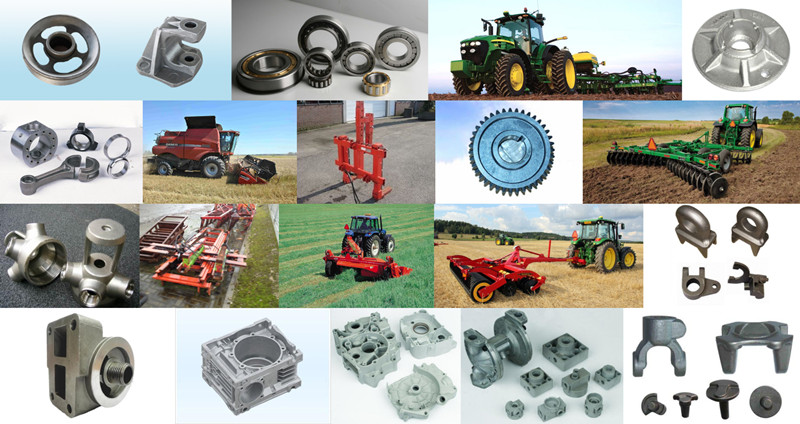 New technology and the future
The basic technology of Agricultural Machines has changed little in the last century. Though modern harvesters and planters may do a better job or be slightly tweaked from their predecessors, the US$250,000 combine of today still cuts, threshes, and separates grain in the same way it has always been done. However, technology is changing the way that humans operate the machines, as computer monitoring systems, GPS locators, and self-steer programs allow the most advanced tractors and implements to be more precise and less wasteful in the use of fuel, seed, or fertilizer. In the foreseeable future, there may be mass production of driverless tractors, which use GPS maps and electronic sensors.
Open Source Agricultural Equipment
Many farmers are upset by their inability to fix the new types of high-tech farm equipment. This is due mostly to companies using intellectual property law to prevent farmers from having the legal right to fix their equipment (or gain access to the information to allow them to do it). This has encouraged groups such as Open Source Ecology and Farm Hack to begin to make open source agricultural machinery. In addition on a smaller scale FarmBot and the RepRap open source 3D printer community has begun to make open-source farm tools available of increasing levels of sophistication. In October 2015 an exemption was added to the DMCA to allow inspection and modification of the software in cars and other vehicles including agricultural machinery.
Type
Combines might have taken the harvesting job away from tractors, but tractors still do the majority of work on a modern farm. They are used to push implements-machines that till the ground, plant seed, and perform other tasks.
Tillage implements prepare the soil for planting by loosening the soil and killing weeds or competing plants. The best-known is the plow, the ancient implement that was upgraded in 1838 by John Deere. Plows are now used less frequently in the U.S. than formerly, with offset disks used instead to turn over the soil, and chisels used to gain the depth needed to retain moisture.
The most common type of seeder is called a planter, and spaces seeds out equally in long rows, which are usually two to three feet apart. Some crops are planted by drills, which put out much more seed in rows less than a foot apart, blanketing the field with crops. Transplanters automate the task of transplanting seedlings to the field. With the widespread use of plastic mulch, plastic mulch layers, transplanters, and seeders lay down long rows of plastic, and plant through them automatically.
After planting, other implements can be used to cultivate weeds from between rows, or to spread fertilizer and pesticides. Hay balers can be used to tightly package grass or alfalfa into a storable form for the winter months.
Modern irrigation relies on machinery. Engines, pumps and other specialized gear provide water quickly and in high volumes to large areas of land. Similar types of equipment can be used to deliver fertilizers and pesticides.
Besides the tractor, other vehicles have been adapted for use in farming, including trucks, airplanes, and helicopters, such as for transporting crops and making equipment mobile, to aerial spraying and livestock herd management